Here's a lesson from 2003 that is, if anything, more relevant now than it was back then.
Desire and diligence are useless against clarity and commitment. It is like taking knives to a gunfight.
This is the moral of a true story about the best piece of training I ever received.
The story is 12 years old and the individuals concerned have all moved on. So I have left the names in. It is a better story for it.
In 2003 my client, Barr Soft Drinks, makers of IRN-BRU and Tizer, decided to put its media planning and buying business out to pitch.
The incumbent agency had been fired because, despite being warned not to, it had made the pivotal planner on the Barr account redundant.
I was Group Account Director at The Leith Agency at the time. We were (and Leith still is) the creative agency for IRN-BRU.
I asked if I could sit in on the media pitch as an observer. To my surprise, not only did my client agree to this request, but he also asked me to be an active adviser rather than a passive observer.
Following a pitch process from the other side of the fence was a privilege and the best piece of training I've ever had.
The three pitching agencies were BLM Media, PHD and Feather Brooksbank.
They were issued a pitch brief based on media planning for the Tizer and IRN-BRU brands.
The pitch was a level playing field in that none of the agencies had any history with the client, in that all had the same brief, all had similar briefing sessions, all had equal opportunities to ask questions, all had equal access to the client throughout the process, and all had the opportunity to visit and interrogate the creative agencies for the two brands covered by the brief.
However, it is fair to say that, in the eyes of the client, Feather Brooksbank was the red hot ante post favourite.
Feather Brooksbank had offices in Edinburgh and Manchester, so they were close to the two creative agencies concerned (Leith handled IRN-BRU from Edinburgh, BDH/TBWA handled Tizer out of Manchester).
Their Edinburgh base meant that they understood the iconic status of IRN-BRU in Scotland.
And their Manchester office was close to the client whose marketing team was based not far away in Atherton.
A level playing field does not preclude the client from favouritism.
I met with each of the pitching agencies to talk them through the advertising strategy and creative work for IRN-BRU.
At the time the brand proposition for IRN-BRU was along the lines of "Likeable Maverick" and we were running ads like this.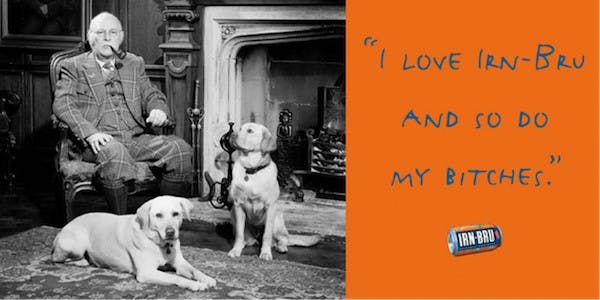 My (admittedly foggy) memory of the meetings with Feather Brooksbank and BLM is that we pretty much went through the motions. I talked the strategy, showed the ads, answered some questions. They were polite about the work and made some intelligent observations without actually giving anything away in terms of their pitch thinking.
PHD was different.
Jonathan Durden (the D in PHD) came up to Edinburgh with his pitch team. And I could tell that he really got what we were trying to do with the ads. He was genuinely enthusiastic. I remember him describing our work as "fresh as a daisy", which sounded great in his London accent. And he wasn't afraid to think out loud about how media planning could most effectively put the ads on an appropriate pedestal.
Nigel (the client - RIP) called me after the meetings and asked who I thought would win the pitch.
"PHD," I said.
Stunned silence.
"Are you mad?" he said.
"They get it," I said.
We agreed to disagree.
Fast forward to the actual pitch presentations.
I don't remember the BLM pitch. And that is not down to the fog of time. I don't think I remembered much about the BLM pitch an hour after they pitched it. Which is not to disparage them in any way. I suspect that most pitch presentations are forgotten shortly after they are pitched because most pitch presentations are instantly forgettable.
I remember the Feather Brooksbank pitch not for what they said but for how much work they had done. They had thrown the kitchen sink at it and then some.
It was the pitch presentation epitome of "never mind the quality, feel the weight".
I think my jaw may have literally dropped at the time and money that had clearly been invested. No stone, no data source, no form of primary research had been left unturned.
They had done surveys, focus groups and they had original video content with high production values, back in the days when you couldn't just knock that stuff out on a MacBook.
But I have no idea what they said.
Just like BLM we couldn't remember what their strategy was or even whether they had actually made any concrete recommendations even a short while after the presentation.
Nonetheless they hadn't made any mistakes and their desire and commitment were palpable. They may not have smashed it out of the park, but they hadn't lost it at this point either.
Enter PHD.
They didn't make any attempt to impress with the amount of work they had done.
Instead they won the pitch in the first five minutes.
Their pitch was presented as a boxing card with two "bouts".
Jonathan Durden talked us through the card.
"Bout one. Tizer. Boys versus Girls."
Basically they had narrowed the media strategy for Tizer down to a single question.
Given the brand, given the commercial objectives and given the available budget, do we target boys or do we target girls?
They plumped for boys but I don't remember the detail and it doesn't matter. What matters is the clarity of thought, the memorability of the presentation and the preparedness to commit to a point of view.
Good strategy is about sacrifice and PHD's strategy entailed the sacrifice of an entire gender.
"Bout two. IRN-BRU. Safe versus Dangerous."
"You have dangerous creative work but you are running it in safe, predictable places."
They went on to present a pre-Internet plan for how to efficiently reach teenagers through guerilla media planning - the backs of bus seats and such like.
PHD's pitch was short, clear and committed.
They were opinionated in all the right ways and none of the wrong ways.
In the end the pitch was no contest. And PHD are still AG Barr's media agency 12 years later.
Twelve years later I ask myself the same questions before every presentation.
"What will the audience remember 15 minutes after I stop talking?"
"Will they? Really?"
Twelve years later I ask myself the same question about every pitch.
"How will a client who is present at the pitch summarise our presentation two days later to a client who wasn't?"
Having non-delusional answers to these questions wins pitches. Kidding yourself about these issues loses them.
Strip it back. Start with a bang. Tell a story. Make it mnemonic.