The IOF Convention, which takes place over 3 days in July each year at the spectacular Barbican Centre in London, is Europe's biggest fundraising event of the year. 
It's a fantastic opportunity for professional fundraisers to learn from their peers and share their latest insights through a series of expert presentations, panels and workshops.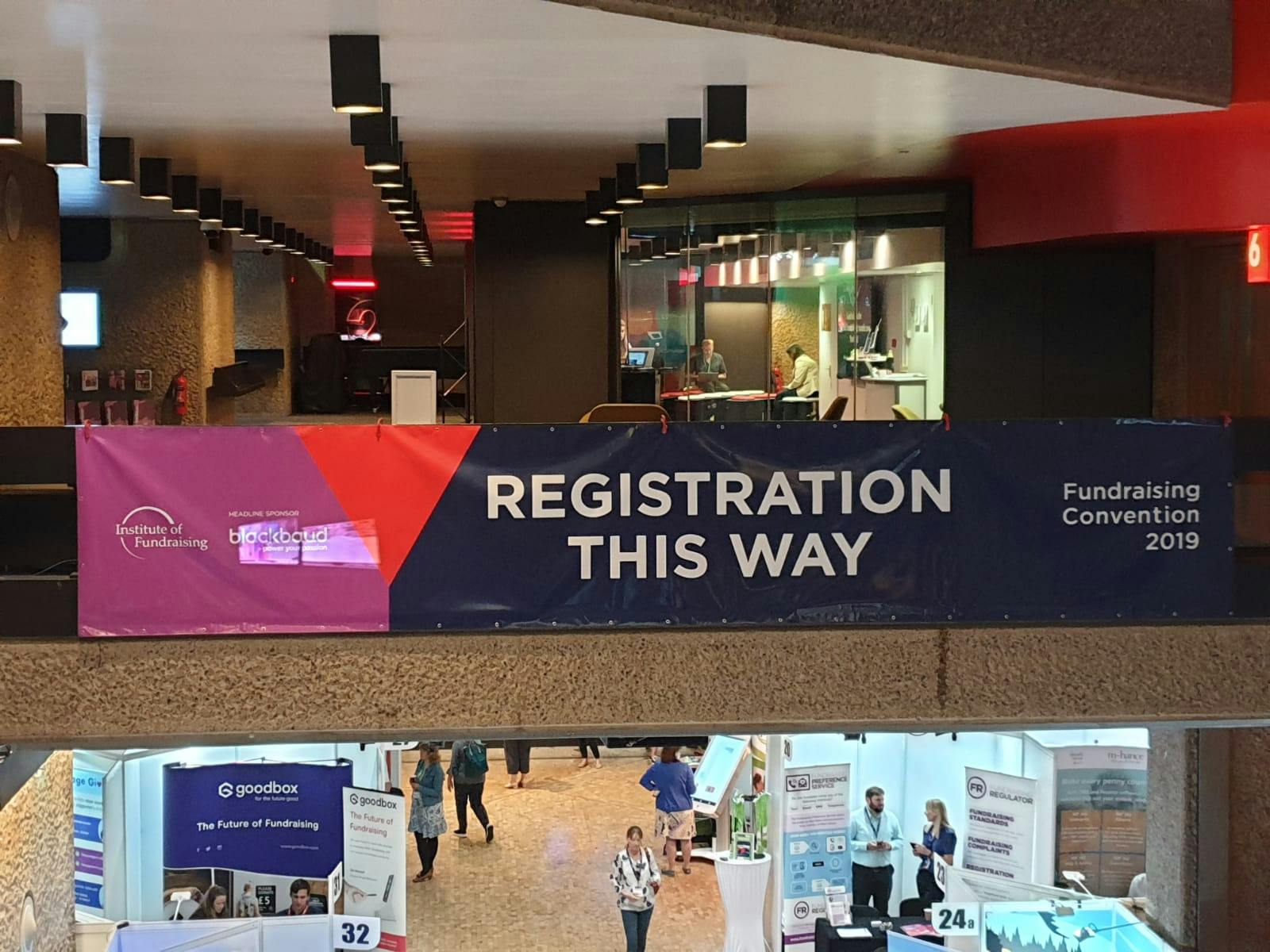 It's also a chance for us to check in with how the sector as a whole is tackling the current charity change conundrum.
With this in mind, we assembled an intrepid team of Signallers to attend this year's event and find out what the burning issues are for fundraisers in 2019. 
Here are the four talks (or themes) that stood out:
'Digital transformation: another way'  
Mistie Roskelly, Client Service Team Leader
Within the charitable sector, 75% of leadership have an intent to implement digital transformation, but only 37% have a strategy to implement this. It is clear that digital transformation is a huge area to be addressed in all charities, with many hurdles and blockers in the way. 
Martin Francis Campbell and Ben Nolan are both under a year into their roles in World Vision, but are driving real, tangible digital progression within the charity. Moving on from just the intent to change, they have recognised that true digital transformation cannot be achieved by simply layering a 'new tech product' over the top of existing processes and donor journey strategies, and hoping for different results. 
Instead, for example, using new tech products to support new agile online acquisition strategies has brought down World Vision's cost per email address from £5 to under £1, as well as resulting in improved engagement and timeliness with the supporter.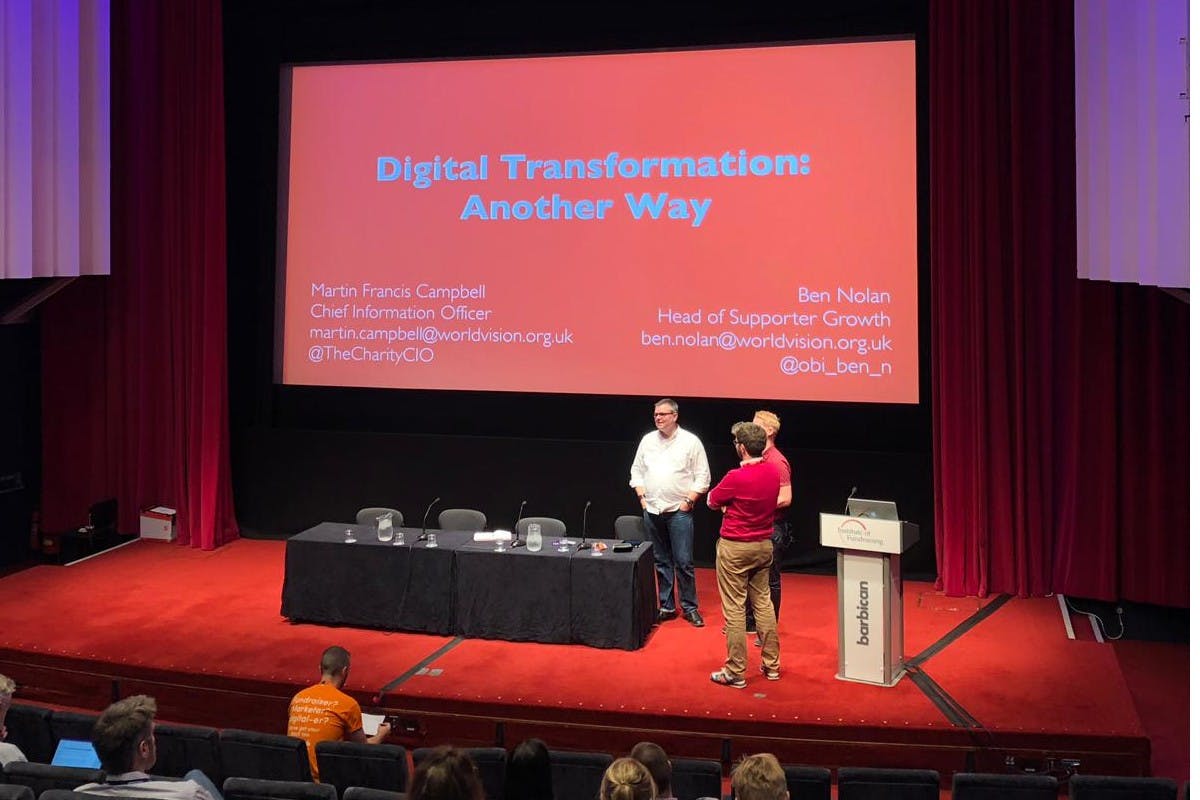 The key factor to take away for the sector is that there are no longer 'historical' fundraising products that anyone can be confident will work in perpetuity. Instead, there needs to be a fundamental change in the business model itself, and in every area of a charity, to make digital part of their new fundraising and supporter engagement reality. 
'Build the plane as you are flying it'
 Indya Barefield, Graduate Planner 
Julie Roberts (Pancreatic Cancer UK) and Nick Burne (RAISETHRU) shared how PCUK used Facebook Ads to recruit over 100,000 leads from cold prospects and double their regular donors. One key theme became clear - if you wait until everything is perfect you will never get off the ground. Instead, their advice was to 'build the plane as you are flying it'. 
Though a potentially terrifying prospect in the world of aviation, in the world of digital marketing it makes sense. We can never know for certain what will work until we try it, and as Julie pointed out, if a Facebook Ad wasn't working she could simply just turn it off. Building the plane as you are flying it allows us to test ideas, learn what is working, and adapt or discard what is not.
Legacies
Karen Wyatt, Business Development
Legacy acquisition is one of the strongest areas of growth in most charities, however it continues to be the most under-resourced. It is almost seen as a bit of an add-on and often charities don't even have a dedicated team. A show of hands in the room backed this up, with most people there who worked on legacies also having other roles and responsibilities. 
The speakers from Cancer Research UK and Kew demonstrated that the main reason their programmes have been successful is down to collaboration within the charity, not operating in silos and seeing it as all part of the same supporter journey. 
Putting supporter engagement first - and making ideas happen
Mark Dibden, Senior Planner
Monday's presentation from WaterAid's Director of Fundraising and Marketing Marcus Missen was a good example of what people mean when they say "we need to move away from transactional fundraising".
Missen shared how WaterAid have grown their income thanks to two big shifts:
1. Creating a more agile and innovative way of working internally
2. A new marketing strategy that focuses on engaging donors in a more relevant way and reduces the number of donation requests
Internally, they just went for it and created a culture of "if you've got an idea, make it happen", and the result was that 75% of their comms now completely focus on demonstrating progress rather than asking for donations. 
They also talked about two recent campaigns that have performed well. To Be a Girl was their first integrated campaign, and it centred around supporters sharing their own childhood photos alongside their current photo as a way to make the issue more relevant. Their goal was to raise £1m within three months, but it went on to raise more than £2m – the most ever from a stand-alone WaterAid campaign at that point. 
Their #untapped campaign, which launched in 2017, was even more of a success, raising £8.9m (with half coming from UK Aid Match). It centred around telling the story of a community in Sierra Leone as clean water was brought to them. 
Conclusion:
It's heartening to see that charities that they need to learn fast and adapt their methods to cope with the shifting landscape, which is an area we are currently addressing for clients such as the British Heart Foundation.
We also saw an increasing emphasis on more inclusive collaboration across departments. More and more charities are understanding the link between breaking down silos to work more efficiently, and their ability to engage donors in more relevant ways.
From the recent discussions at the Convention, it's clear that charities should aim to be much braver when trying out new ideas. They don't need to be perfect the first time, as long as they are continually testing, learning and adapting, looking at what works and what doesn't, and acting on this data. 
Of course, this won't mean overnight transformation for most charities. But it's great to see that making small steps in the right direction can lead to significant success.