Google occasionally injects movement and colour into their iconically spartan homepage with a Doodle.  
Typically these Doodles commemorate science, inventors and subjects close to the search engine's heart. That's not always the case, though, the first-ever Google Doodle was a Burning Man stick figure. And on the 5th of December, 2019, the homepage celebrated wellies.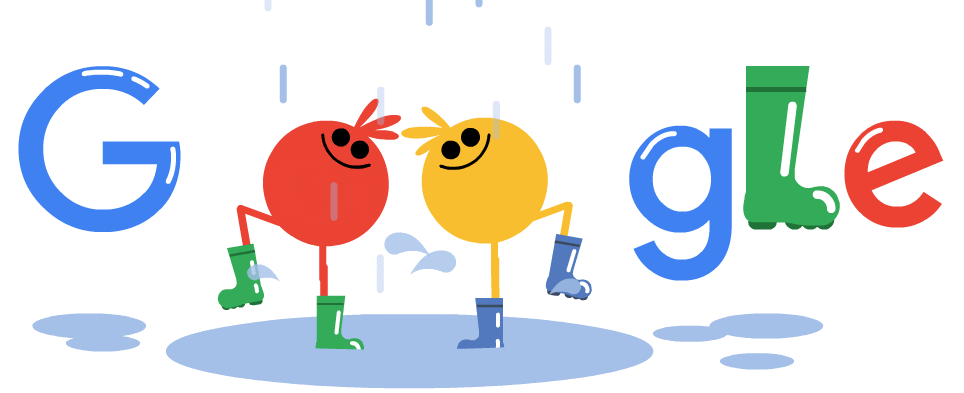 An animation of Google's logo dancing in a puddle might seem like some welcome whimsy to liven up the day, but Google's Doodles are big business. They're multi-million pound opportunities that some of the world's best search marketers fight over.
They can deliver enough customers to empty your warehouse, fund your charity for months or even crash your website.
It is often the case that clicking on the Doodle, or trying to interact with it, will take you to Google search results for a related keyword. 
For example, in the first few hours of Google's Wellies Doodle, the top most result was a PPC ad from the Edinburgh based Hunter Boots. A company founded in 1856, and that holds several Royal Warrants by Appointment as official suppliers to the royal court was at the very centre of an entirely modern phenomenon.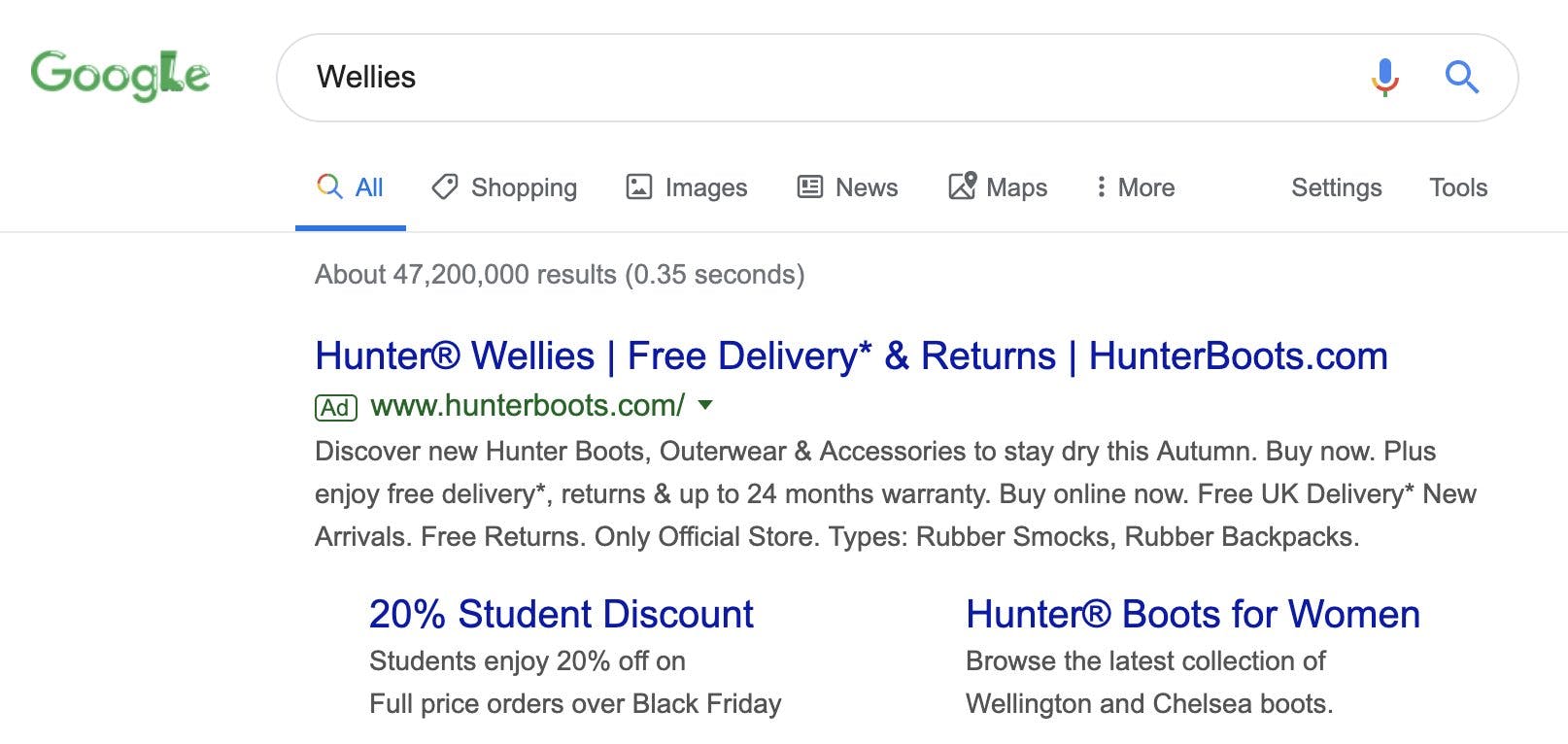 As our Planning Director Phil Adams, who noticed Hunter's prime position, pondered on Twitter; did Hunter Boots plan this?
The subtle art of doodle-jacking
It's an interesting question. Would it be wise or unwise to have the top position in search when you are paying for each click during the surge in searches the Doodle was creating?
Search ads are more than just clicks. As a result of Google's Doodle and Hunter's ad, I now know they offer a 20% student discount. I learnt that without a click. Who says search marketing can't also be brand marketing?
The problem with paying for each click during a search surge, however, is that you can blast through your budget.
Traditionally, Google's PPC budgets are set to have a daily spend. It's less well known that Google reserves the right to spend up to 200% of your daily budget on a single day, in exchange for balancing your total spend over 30.4 days. Usually, this is a handy feature as it creates flexibility.
Right now, though, Google is testing letting campaigns drawdown from a monthly total. Any advertiser who has opted into this test and made the necessary changes could find a whole month of budget spent in a single search surge.
Whether it's worth spending an entire month in a day and resting for the remaining days will be different for advertisers, products and campaigns. It's a reminder to make sure analytics are as fast and insightful as possible. 
The crucial role of The Cook Islands
You might be wondering what The Cook Islands have to do with all this. They are memorable for two reasons. 
Let's get the giggling over the first reason out of the way. The TLD for the self-governing island country is .ck and therefore businesses use .co.ck.
Secondly, the Cook Islands are the easternmost Google homepage. In other words, the first instance of Google to reveal a global daily Doodle, like the Wellies celebration of December the 5th, is Google.co.ck. 
If you want to know what today's Google Doodle is going to be then watch the 'co.ck'.
Newspapers do. The effects on the daily news search results are immediate. Here's how the search results for Wellies looked just a few hours after the Doodle went live in the UK.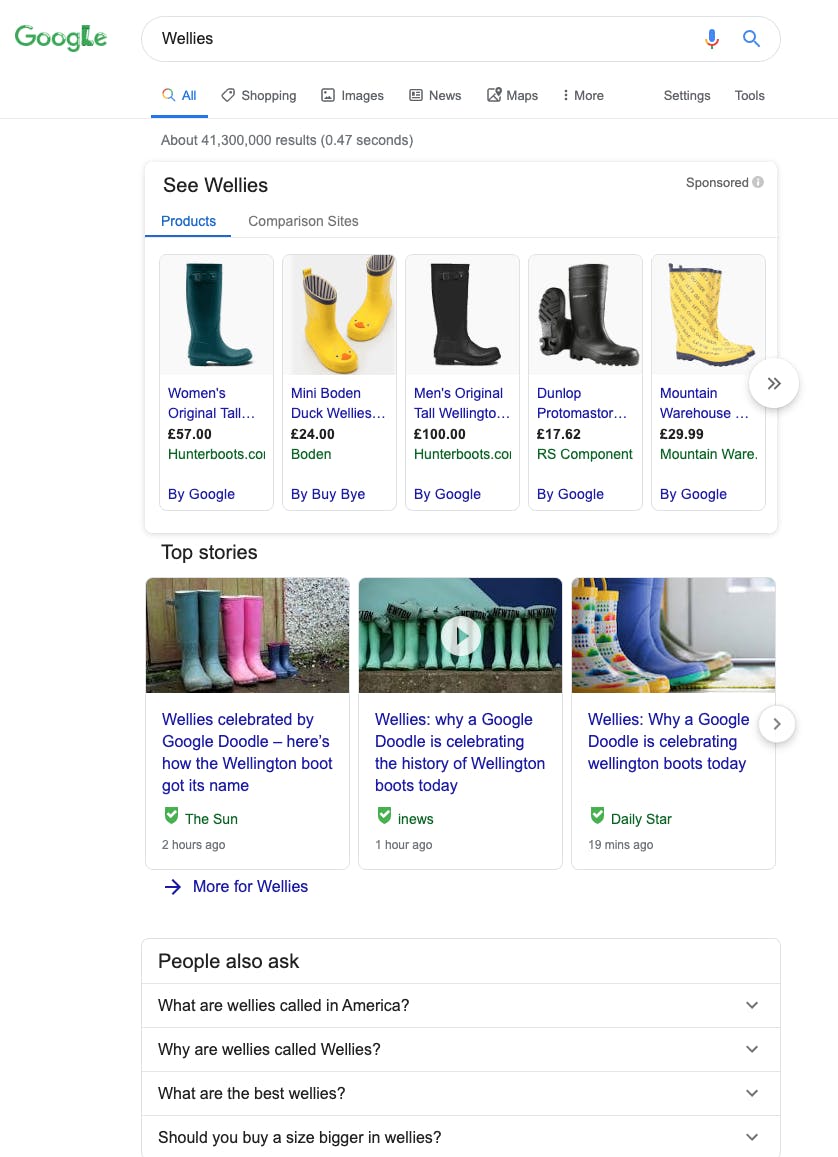 Dramatically different, with articles about the day's doodle on The Sun, iNews and Daily Star websites highlighted as top stories.
The Caffeine Effect
If you are curious, the Google algorithm which allows the results to change this much and so quickly is called Caffeine. It's been in use for nearly 10 years.
Google explains how Caffeine helps it serves up information more quickly:  
"With Caffeine, we analyze the web in small portions and update our search index on a continuous basis, globally. As we find new pages, or new information on existing pages, we can add these straight to the index. That means you can find fresher information than ever before—no matter when or where it was published." 
You can read the full article on their blog for more details.
It's also worth noting the changes in the paid search landscape too. Just a few hours after the doodle went live, Hunter's old text ad has gone.
Shopping campaign ads are appearing instead. This could be because Hunter ran out of money, or because the algorithm adapted at caffeine speed to adjust to the search surge and accompanying change in user behaviour. Or both.
As a side note, Shopping campaign ads are worth exploring for any retailer, because they show a photo of your product and other information to help people make a buying decision. And if you're based in the European Economic Area then Comparison Shopping Services (CSS) requires careful consideration (Google created them to meet the European Commission's anti-monopoly requirements).
Conclusion:
Google's funny Doodles deserve to be taken very seriously by paid search marketers as, out of the blue, they could turn your plans for the month on their head.
If your SEO game is strong, then Google's Doodle's are all opportunity. If you're a newspaper and able to have your newly created page injected above the standard results, then it's an opportunity you might even win.
And the Cook Islands are a vital asset when it comes to securing victory, and (pardon the pun) help you put the boot into your competitors. 
Photo credit: Sydney Rae