Front-end web development is an ever evolving discipline and the pace of change can sometimes be difficult to keep up with.
New technologies and techniques are constantly emerging, and one of the best ways of staying informed is by engaging with the international community of developers.
With this in mind my fellow front-end developer Mike Shelton and I recently travelled to Berlin for the 6th (and final) CSSConf EU.
CSSConf EU was a one day single track web conference held annually in Berlin at the Treptow Arena - a huge former bus depot on the banks of the river Spree.
The event aimed to bring together international experts on front-end development with the broader development community. It featured talks from both new and established creatives and front-end developers involved in building performant, accessible and beautiful websites and apps.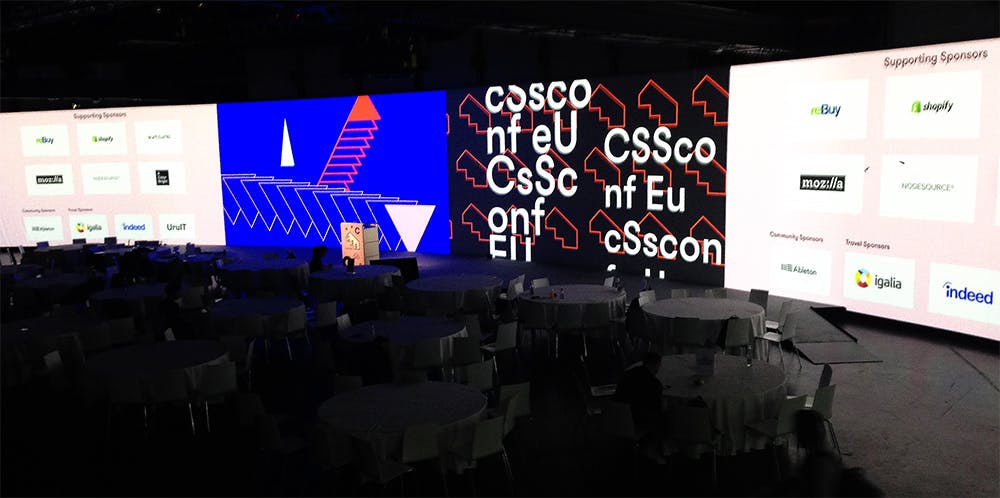 The conference began in 2013 with 190 attendees and grew to become a key event in the global conference calendar for front-end web developers. This year's event was attended by over 800 designers and developers from all around the globe.
The event had a strong focus on diversity and inclusion and included a scholarship programme for under-represented groups within the tech world as well as a dedicated venue space for Black, Indigenous, and/or People of Color in Tech (BIPoCiT).
Features this year included 20 talks on three stages; a community space with lightning talks by first-time speakers; an art exhibition; superb conference catering; an ice cream van (really); and a group of DJs and multimedia artists who dazzled the crowd with a display of audio-visual creativity on the largest conference screen we have ever seen.
Themes
Whilst there were no set themes for the conference as a whole - there were certain recurring topics and issues to be found across the diverse range of talks:
Emerging CSS Features & Techniques

These included the Subgrid feature of CSS Grid Level 2; The new CSS Containment property; and Houdini CSS which lets developers interact more deeply with the CSS rendering engine within the browser.
Performance

Website speed and performance should be a major consideration for all front-end web developers. This was reflected in the number of talks which touched on the performance gains to be had in using the latest CSS Modules and techniques.
Testing

Testing websites can be a complex process and several talks focused on the need for better testing tools for front-end web developers.
Highlights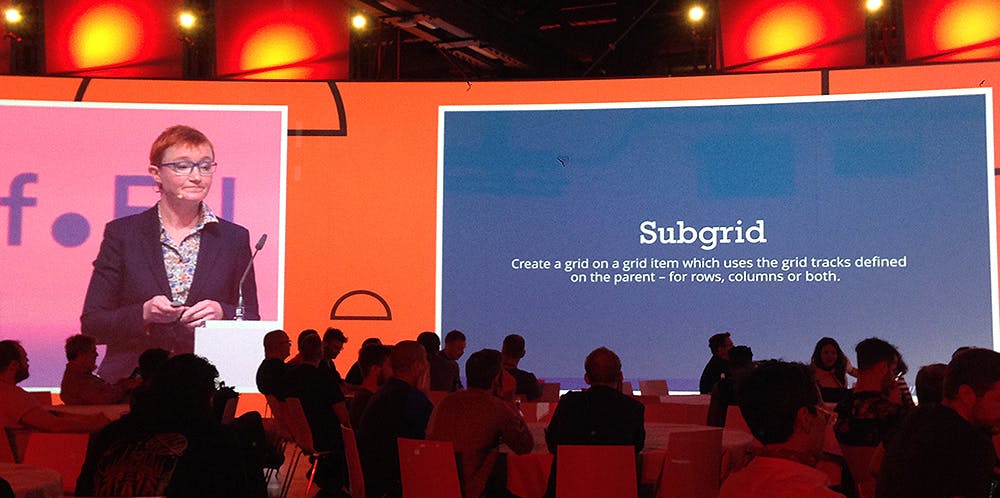 Rachel Andrew - Hello subgrid!
Rachel Andrew is very well known within the front-end developer community. She is currently the editor-in-chief of Smashing Magazine, and also a member of the CSS Working Group.
Rachel's talk introduced us to the new Subgrid feature of the CSS Grid Level 2 specification. Subgrid will give developers much additional needed control over how nested elements should be displayed within Grid layouts.
The Grid Level 2 specification is currently a working draft, but has already been implemented in the Firefox Browser (nightly version). Rachel advised that Firefox will most likely be the first browser to ship a stable version of Subgrid. So we should soon be able to make use of Subgrid in our designs, with some fallback support for older web browsers.
Jason Pamental - Variable Fonts
Jason is a design strategist, UX leader, and typographer who works with teams from organisations like Adobe and IBM. He is also an Invited Expert on the W3C Web Fonts Working Group.
Jason introduced us to the design possibilities and performance improvements made available to us by using Variable Fonts with CSS custom properties.
Variable fonts allow for a collection of fonts from a font family to be combined into a single highly optimised file for use on a website. This will make it a lot easier for web designers to create truly fluid typography, which responds to screen sizes and browsing environments.
Samuel Richard - CSS Houdini
Sam is an engineer on the Google Chrome web browser and is a developer advocate for the CSS Houdini Task Force.
CSS Houdini is a proposed suite of tools which will for the first time allow front-end developers to access and manipulate the underlying rendering system in a web browser. This will enable developers to use JavaScript to determine how aspects such as layout and style calculations are performed by the browser and will allow for much more sophisticated design systems.
Sam introduced us to the overall concepts behind Houdini and demonstrated some very slick page components build on top of Houdini - which would be almost impossible to build with current web technologies. Sam advised that Houdini is not yet available to use in production, but is under active development within Chrome and Firefox web browsers.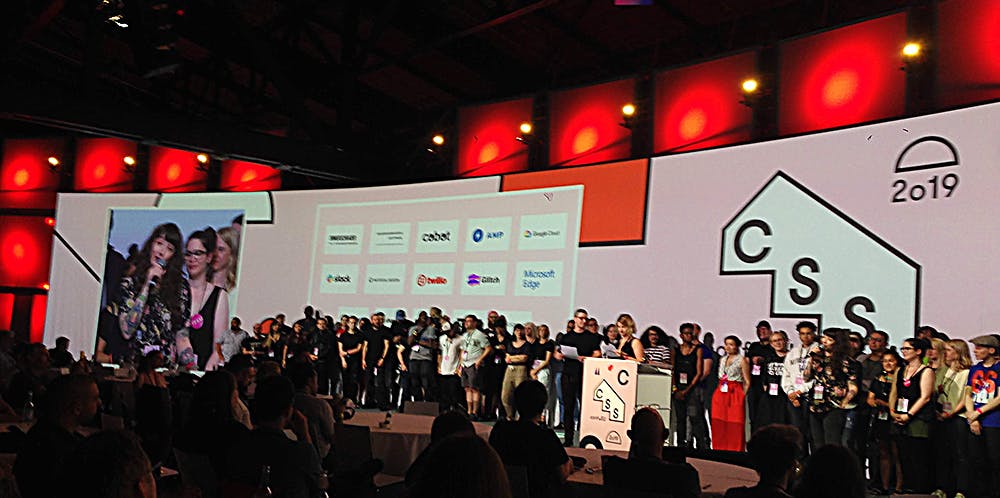 In Conclusion
CSSConf EU 2019 was a superbly organised conference with a truly inclusive and diverse agenda. The talks covered a broad range of current topics in front-end development, and the speakers were of a consistently high standard.
Unfortunately, the conference organisers announced that this years' event would be the final CSSConf EU. They did suggest that the conference may return in future, though it would be in a different format - possibly a series of smaller regional conferences. If so we would certainly be keen to attend another of their events.
Watch more videos from the event on the official YouTube channel