Update: On 29.11.2017 Facebook announced it will no longer charge a 5% fee on donations to charity organisations.
Facebook has recently made a suite of game-changing tools available to fundraisers in the UK and 15 other European countries. These include a donation button which enables users to send money directly to charities, in three taps or less, without leaving the platform.
Since launching in the US in 2015, the tools have helped raise millions of dollars for charitable causes, and European nonprofits are already seeing significant benefits. Save the Children Spain recently told the International Fundraising Congress that it has seen a 26 percent increase in digital giving in just three weeks of trialling the tools.
But can the all-conquering social platform be trusted to have charities' and donors' best interests at heart over the long-term? After all, charities are increasingly focusing on retention and building lasting relationships, and relying on a third party platform is unlikely to give them enough data, or control over the supporter experience to enable this.
What's in it for Facebook?
It's definitely worth asking what Facebook stands to gain from offering the tools, other than positive PR and a nice warm fuzzy feeling for founder Mark Zuckerberg. The company claims that its hefty 5% cut from each donation is purely to cover costs, but we know that the UK's most prominent digital giving site JustGiving earns around £20m a year by charging a similar amount.
Like competing online powerhouses Google and Amazon, Facebook wants to keep users within their own walled garden so it can serve them highly profitable targeted ads. So clawing back some of the traffic it sends to third party donation platforms like JustGiving would also be a win, especially at a time when Google is aggressively pushing its AMP format.
It also seems probable Facebook will use any data it collects from donors to its advantage as far as possible. And if Facebook becomes the go-to place for supporting causes, there's likely to be an increase in charity ad spend in order to compete for people's hearts and minds.
Regardless of how much Facebook stand to gain, it's clear that charities can benefit for from embracing the new tools, even if a 26% increase in donations turns out to be a short-lived, early adopter advantage.
Let's start by taking a deeper look at what Facebook is offering for charities, individual fundraisers and supporters. Then we'll consider the pros and cons for charities in more detail.
How the new tools work
For charities
Eligible charities first need to register with Facebook. Once verified, their Facebook Page will display the new donation button. Charities can also use the donation button in link ads, and Facebook Live video broadcasts.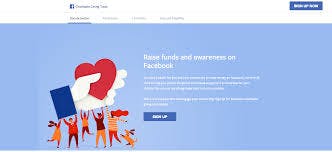 For individual fundraisers
The new tools aren't just open to charitable organisations. Individuals seeking to raise money for good causes can also set up their own fundraising campaign via the charity's Facebook page. (Take that, JustGiving!)
If unsure which charity to support, users can also click on the 'create fundraiser' option in the left-hand sidebar of their homepage, or the 'raise money' button which can be found in the new fundraisers section.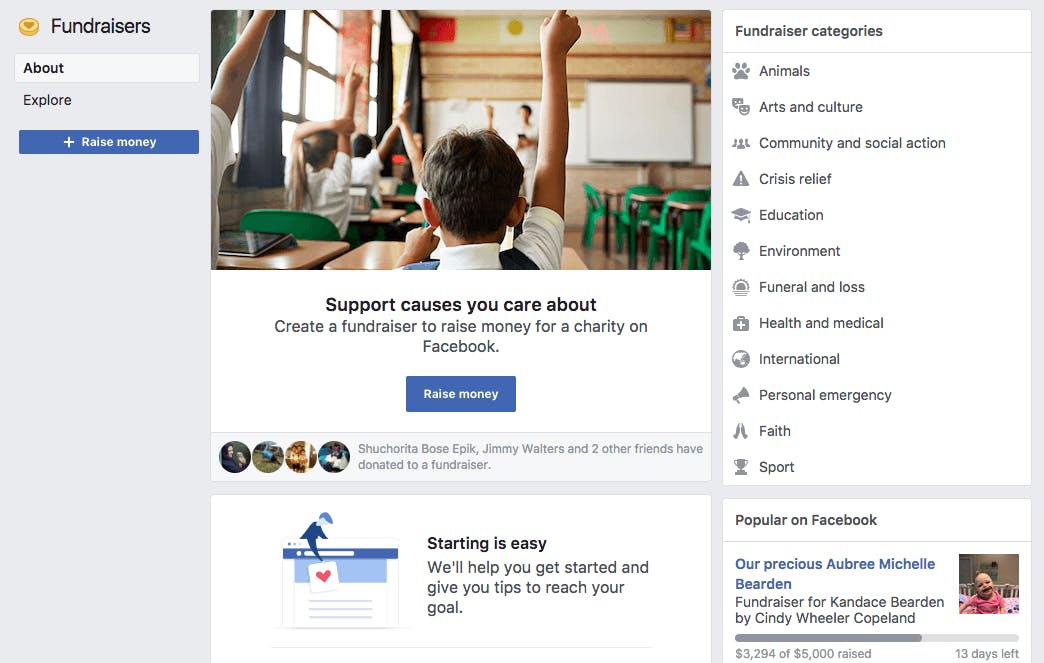 Individuals will then be given a list of charities to choose from. Other than UK charities showing above those from other countries, it's not clear how this list is ranked - it isn't alphabetical or by number of Page likes - but charities may be prioritised based on revenue generated so far. It's probable that Facebook will tinker with their own ordering algorithm for this list, as they do with everything else.
There is obviously an advantage to being one of the first few results if people are unsure who to fundraise for, but those who already have a charity in mind can easily search for them. UK charities who have already signed up include WWF, Save The Children and Unicef.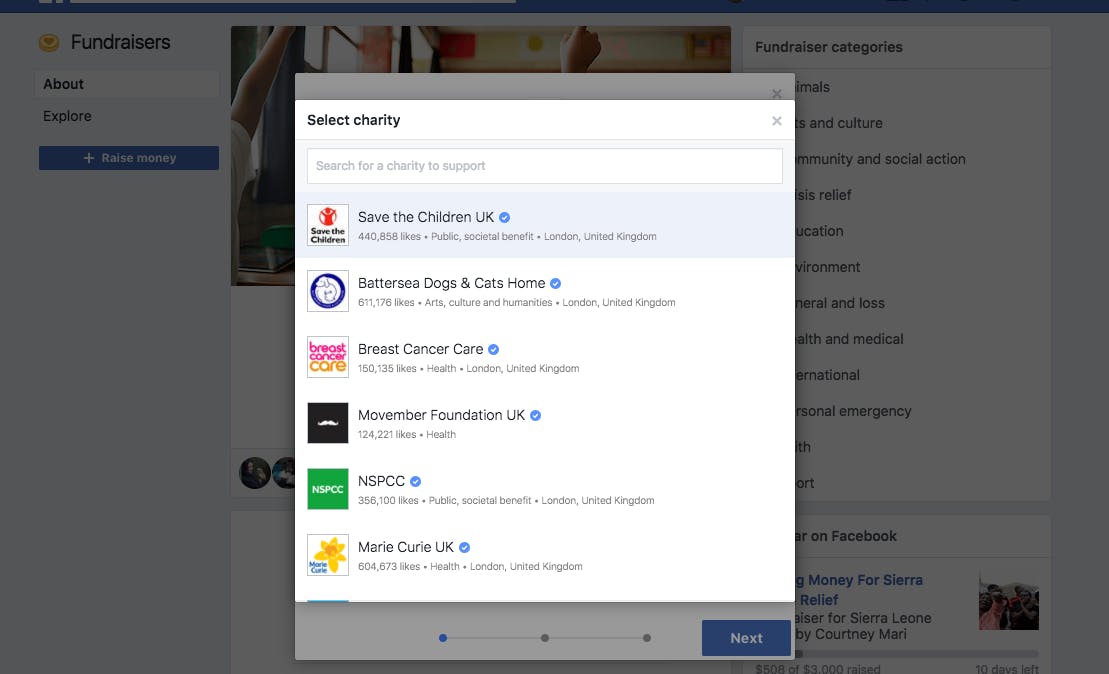 When individuals share their fundraising page, the donation button will appear in their friends' News Feeds. In our initial tests, friends also received a notification directing them to the status update. Individuals can add the button to Facebook Live broadcasts too.
For supporters
So how does it work for those making a donation? The donation button allows people to make a donation in just a few taps (or clicks). However, for the first donation they make via Facebook, people will need to give the company their financial details, and, if they want to add Gift Aid, their physical address. Facebook saves these details for each user, making future transactions extremely simple.
As part of the donation process, people will be asked if they want to sign up to the charity's email newsletter.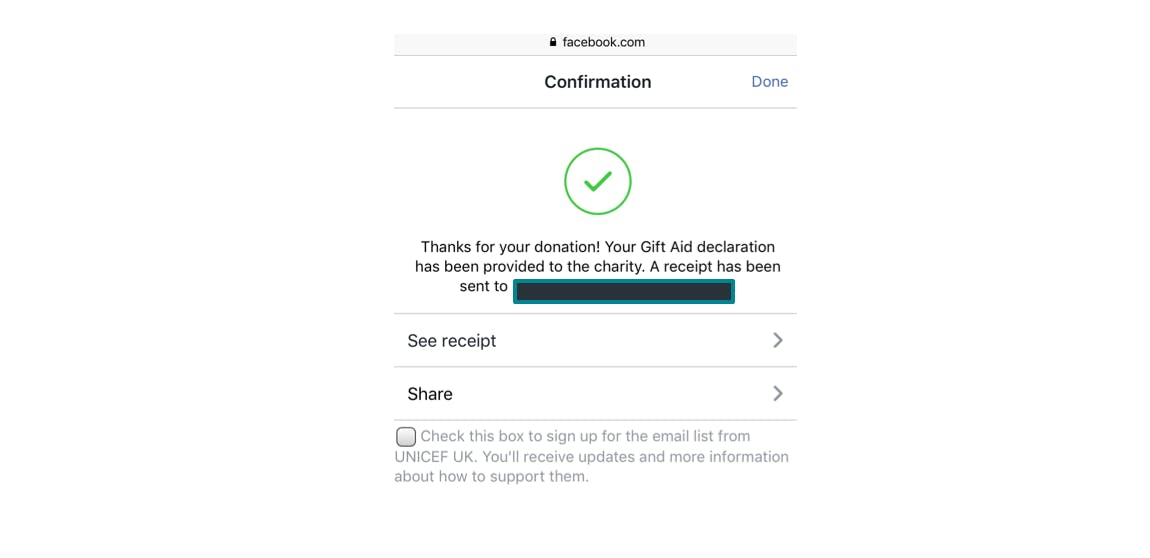 People who begin a donation but don't complete it will be repeatedly reminded in their News Feed. In a similar vein, people who begin (but don't complete) setting up a fundraising page will receive a reminder. In addition, individuals will also receive a message from Facebook two weeks before their birthday, asking them to consider setting up a birthday fundraising campaign.
Facebook is expert at these kind of nudges, and they are likely to help increase donations in the short term at least. If this is overdone, however, it could start to feel all too similar to some of the 'traditional' fundraising techniques that have negatively affected people's perceptions of charities in recent years. And like repetitive banner ads, people may just learn to ignore them.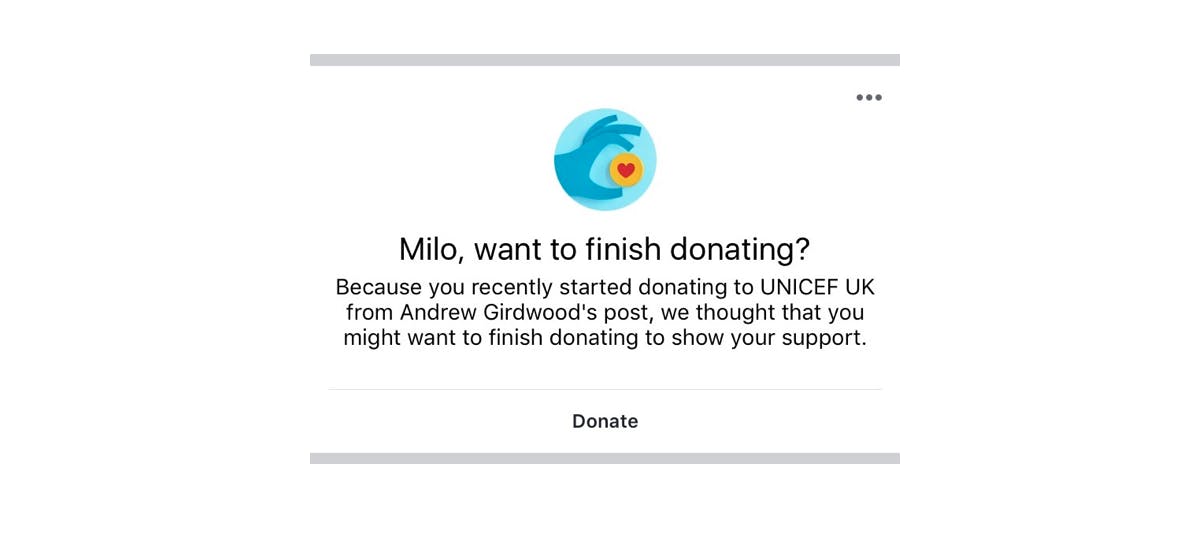 How Facebook's fees compare
Although fees are currently waived in a bid to encourage UK charities to sign up, a 5% fee will apply in the near future, as it already does in the US. Facebook says this fee is to cover payment processing and other operational costs, rather than to boost its ever-growing ad revenue (which increased by 45% in Q2 2017).
This means that for every £10 donated plus £2.50 Gift Aid, charities will receive £11.87. As can be seen from the below diagram (based on figures from Money Saving Expert), this is at the high-end compared with other online giving platforms. But it seems to be cleverly positioned to marginally undercut the UK's most prominent digital giving platform JustGiving, who take 5% per transaction fee and card-processing fee of 1.25% plus a monthly subscription fee from charities. As mentioned above, JustGiving are a for-profit organisation who earn £20m a year from these fees, so it seems unlikely Facebook won't also benefit financially, conceivably far in excess of £20m a year.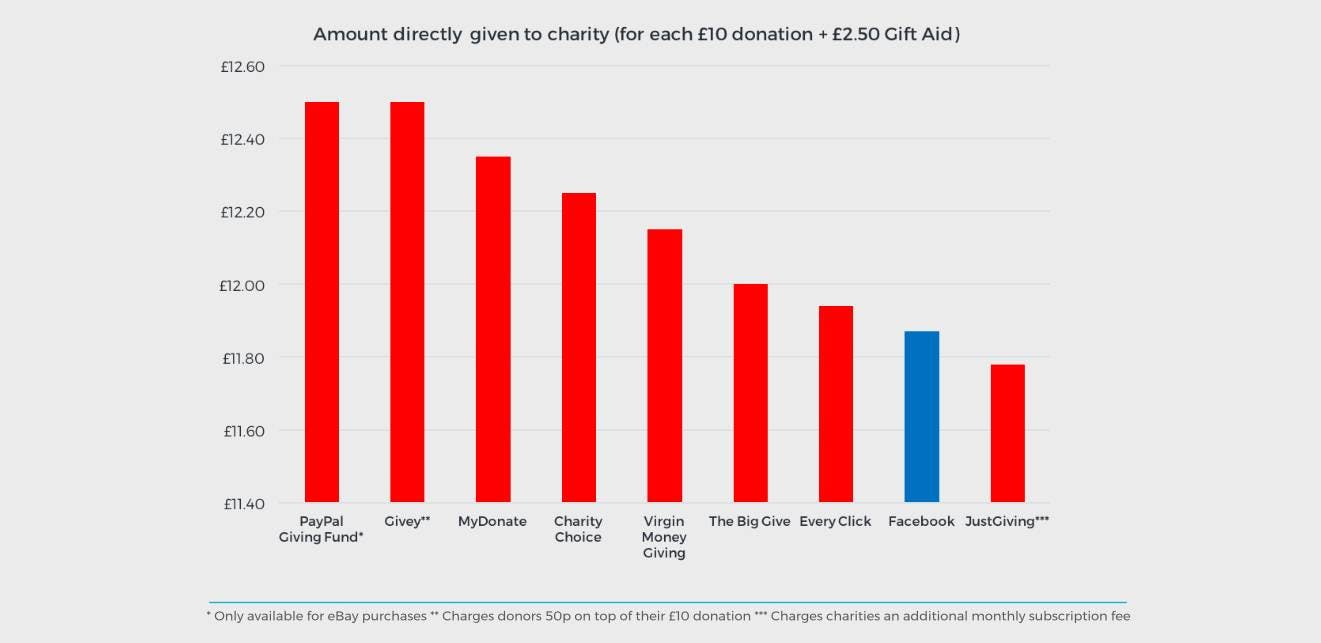 Benefits for Charities
Facebook is still the most used social media platform
Facebook's scale and ubiquity is a big plus for charities who want to reach as wide an audience as possible, and may justify the fees involved. According to eMarketer, it is the biggest social media platform both in the UK (32.5 million active monthly users) and globally (2bn active monthly users).
Ofcom's 2017 Adults' media use and attitudes report shows that Facebook users span all ages, with more users in the over 65s demographic this year than ever before. And while EMarketer's stats also show that teens and young adults are increasingly migrating to Snapchat and Instagram, the percentages are still relatively small. It's also worth considering the findings of Third Sector's Donating Trends in the UK report from earlier this year, which showed that 16-24 year olds are still the most likely age group to visit a charity's page on the platform. With virtually every charity now vying for the attention of younger audiences, has Facebook just handed the sector a gift-wrapped opportunity?
The company's reach is actually wider than the main platform alone. Instagram is owned by Facebook and shares the same advertising infrastructure, so we may see a native donation button become available to nonprofits there in the future. And by co-opting some of Snapchat's most popular features such as Stories, and acquiring challenger apps such as popular teen messaging app tbh, Zuckerberg's company has so far successfully maintained its dominance across social media users of all ages. Ofcom's findings confirm this, with eight out of ten UK social media users considering Facebook their main social media profile.
Reduced friction
We know that when it comes to online transactions, the fewer steps involved the better. Whether its for charity or ecommerce, the more barriers in the way of making a payment, the greater the likelihood people won't complete a donation.
And the fact is that charities' own sites have limited success in converting visitors into donors. According to 2017's M + R Benchmarks report (which surveys 133 US nonprofits) the average donation page on a charity's website converts 18% of visitors and the average charity website only converts traffic to donations at 1.2%. So just a small reduction in friction can potentially lead to a significant increase in revenue.
Advanced targeting opportunities
An increase in fundraising activity within Facebook is also likely to lead to advanced targeting opportunities becoming available through custom audiences and lookalike audiences. For example, charities are likely to be able to target their Facebook ads towards an ever-expanding group of users who are regular donors or who regularly engage with fundraising posts by either liking, commenting or resharing.
Retargeting these kinds of influential groups for future campaigns could become a new form of outreach strategy for fundraisers. The more these groups respond to promoted content, the more free organic reach they are likely to generate in the News Feed, not to mention that all important social proof.
Reasons for charities to be cautious
It's tempting then, given the above advantages, to see Facebook's donation button as the answer to charities' prayers. But there are also reasons to proceed with caution.
Do people trust Facebook enough to give them their details?
It's important to remember the caveat that this friction-free promised land depends on people getting over that first hurdle of adding their debit/credit card details and home address.
Whether people are willing to do this or not ultimately comes down to how trusting people are of Facebook, which already holds a great deal of data about us and our behaviour and has a chequered history in its approach to users' privacy. Recent controversies over fake news, inflated claims about video and advertising engagement results, and its role in influencing the US presidential election certainly won't help.
However, while many will remain cynical about Zuck & co's true intentions, the ongoing success of the donation button in the US, with $17m raised through the platform so far to help people affected by Hurricane Harvey, suggests that a lot of people are willing to hand over yet more personal info for what they consider to be the greater good.
It's also arguable that a dedicated donation page with PayPal or ApplePay integration would potentially have even less friction, but that depends on people having a pre-existing PayPal account with one-click payments enabled, or an iOS device with Touch ID (and eventually Face ID) configured. Again Facebook's breadth is likely to give it an advantage over standalone payment platforms which require a separate account or are limited to a specific operating system.
What isn't possible with the tools
This is where charities need to be crystal clear about their fundraising strategy. Despite all the potential advantages we've covered, defaulting to Facebook as a source of donations could mean charities miss out on valuable data and the ability to build a long-term relationship with supporters.
The dilemma charities face is analogous to that of news organisations, who have had to decide whether the benefits of Facebook's natively hosted Instant Articles outweigh the loss of direct communication with their readers.
With this in mind, let's look at all the limitations of the donation tools as they currently stand:
One-size-fits-all donation sign-up form and receipts, with no option to customise - meaning less opportunity to nudge donors towards specific actions
Lack of customisation of the UX - Facebook controls this and can change it at any time
Minimal data - charities will only receive the donor's Facebook user name and an email address (if they choose to sign up to their email list). They will not be informed of the user's location, address or phone number - limiting the channels on which charities can contact them for further donations
Competition is likely to be fierce amongst nonprofits. A uniform UX means a level playing field for all charities, which may be an advantage for smaller charities, but too much choice for supporters can also result in inaction. Facebook has also recentlyenabled personal fundraising in the US, which enables any individual to ask their friends for money (within some specific categories). This could also open the door to more sophisticated Kickstarter-style crowdfunding campaigns in the future. It's possible users could develop 'donation button blindness' if fundraising activity become too commonplace as a result.
Early adopters are likely to benefit
It's easy to default to either an overly optimistic of the potential of Facebook's new fundraising tools or an overly cynical view of why the company introduced them in the first place.
Like Microsoft founder Bill Gates, Mark Zuckerberg has sought to balance concerns about his own and Facebook's disproportionate level of power and influence with highly public displays of philanthropy. So keeping charity partners on side is likely to be a priority for his PR team. Having said that, Facebook will always put its own interests (and those of its shareholders) over other brands, as demonstrated by its recent test of a separate News Feed for content from business Pages, that could dramatically reduce traffic for all publishers.
Charities would be wise to bear in mind the rocky ride news organisations have had with Facebook's Instant Articles format. It's important not to lose sight of the importance of their own online platforms and the ability this gives them to create a nuanced experience for their supporters that encourages long-term engagement.
But at the same time, the charities who succeed now and in the future will be those that accept and embrace the public's evolving preferences, and have a strong presence in the places where people are spending much of their time. And there's potentially a huge early adopter advantage with Facebook's new tools.
If a significant percentage of supporters find donating by Facebook simpler, more compelling, and more convenient, then why wouldn't charities support that? Especially if a 26% increase in donations is up for grabs for those who are willing to act fast, learn quickly and continually evolve their fundraising strategy to fit with their supporter's behaviours and preferences.