BIMA Digital Day is an annual event that links digital industry professionals with schools and colleges across the UK - raising awareness (and interest) in the huge range of opportunities available for young people within the sector.
Not only was this year Signal's first go at taking part, but it was also Scotland's biggest Digital Day yet. Coincidence? Okay yes, almost certainly, but we still say that having our Edinburgh team on the list of those taking part means that we can take a teeny bit of credit.
We're pretty keen on working with local schools, colleges and universities here at Signal - from hosting the DMA & IDM Big Book Crit initiative to mentoring MSc Creative Advertising students at Edinburgh Napier University. Going back to school again to big up what we do? That was right up our street.
So last month our UX Designer Lauren, Copywriter Mairi and Project Delivery Director Terresa all had a great time over at Queensferry Community High School, working with some of their students on their BIMA challenge and just generally having a chat about what they knew about working in digital.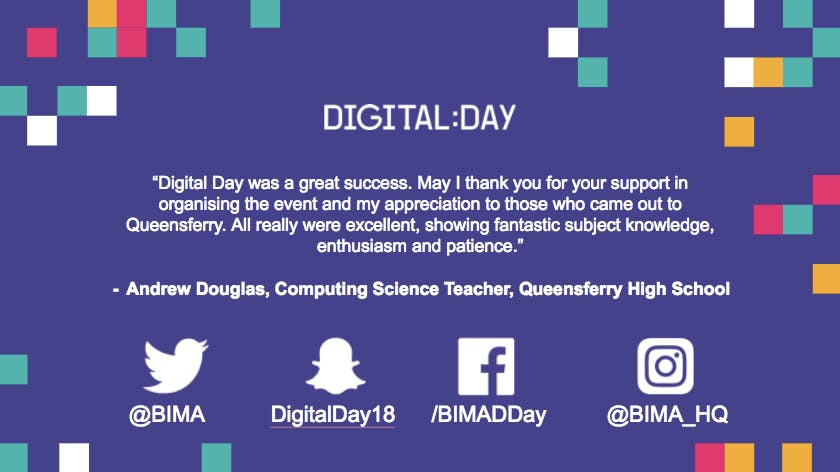 In exchange for the pupils picking our brains about what we do, we're not ashamed to say we totally returned the favour. Here are just some of the things we learned throughout the day from our new Gen Z pals:
They want their online experiences to be easier and more streamlined. Their overall favourite? Amazon - because it's so easy to filter to find what you want, read reviews and buy.
Despite the many thought pieces arguing the opposite, Snapchat is definitely still a thing.
Want to get their attention? Add a prize or incentive - XBox points for example.
TV is out and Netflix et al are in - hardly anyone in the class said they bother to watch 'live' TV anymore.
But outside our new favourite squad of students, one comment in particular from the day that really stuck with us came from Andrew (Mr Douglas to the pupils). He mentioned his thinking that his subject - Computing - was somewhat outdated, and that it should be revamped as Digital Studies. Afterall, these days digital is everywhere, it's thriving, and the curriculum should reflect that.
As Mairi's teacher mum always says:
"You can't teach the kids of tomorrow with yesterday's tools."
That's why initiatives like Digital Day are so important - they provide an invaluable opportunity to show young people how diverse this industry is and explain the many different career paths available and how everything comes together.
If we can get as many kids as possible to love the idea of working in the digital industry, in the future they'll bring the energy and creativity that we need to keep innovating - and that's exactly why we've already added the next Digital Day to our 2019 calendar.