The organisers of Accessibility Scotland describe it as "a friendly, affordable, and informative day focused on digital accessibility and inclusion." 
The event has grown bigger every year, with both the 2018 and 2019 events taking place at the expansive Edinburgh International Conference Centre (EICC). 
Signal's senior UX Designer Lauren Bowen and myself were fortunate to be able to attend this year's (fourth annual) event, which was completely sold out, with around 250 people in attendance.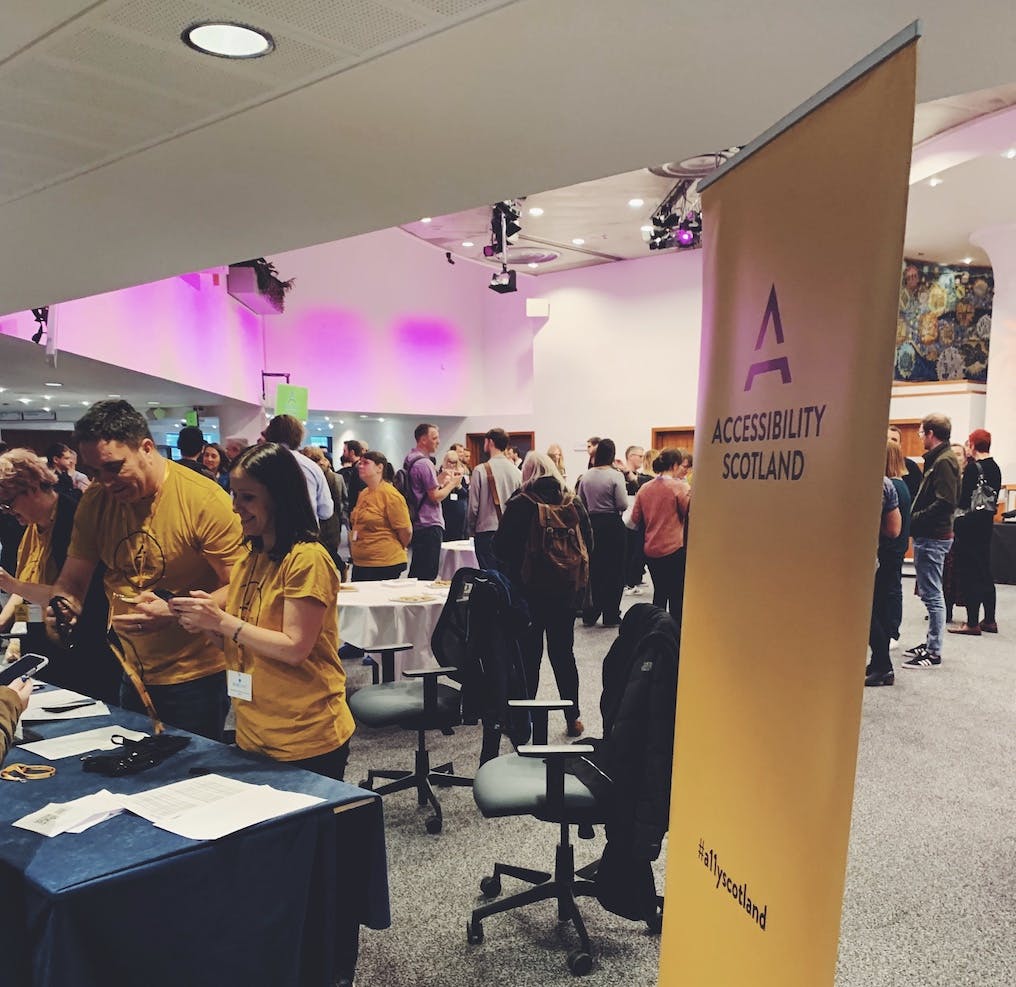 'Accessibility and Ethics'
As well as the welcome sight of some familiar faces, it was pleasing to see that there was a real effort to make the entire experience as inclusive as possible. The venue and room layouts were fully accessible, and there were BSL (British Sign Language) interpreters and live captions for all of the main talks.
There was even a simple code of conduct: 'be nice'.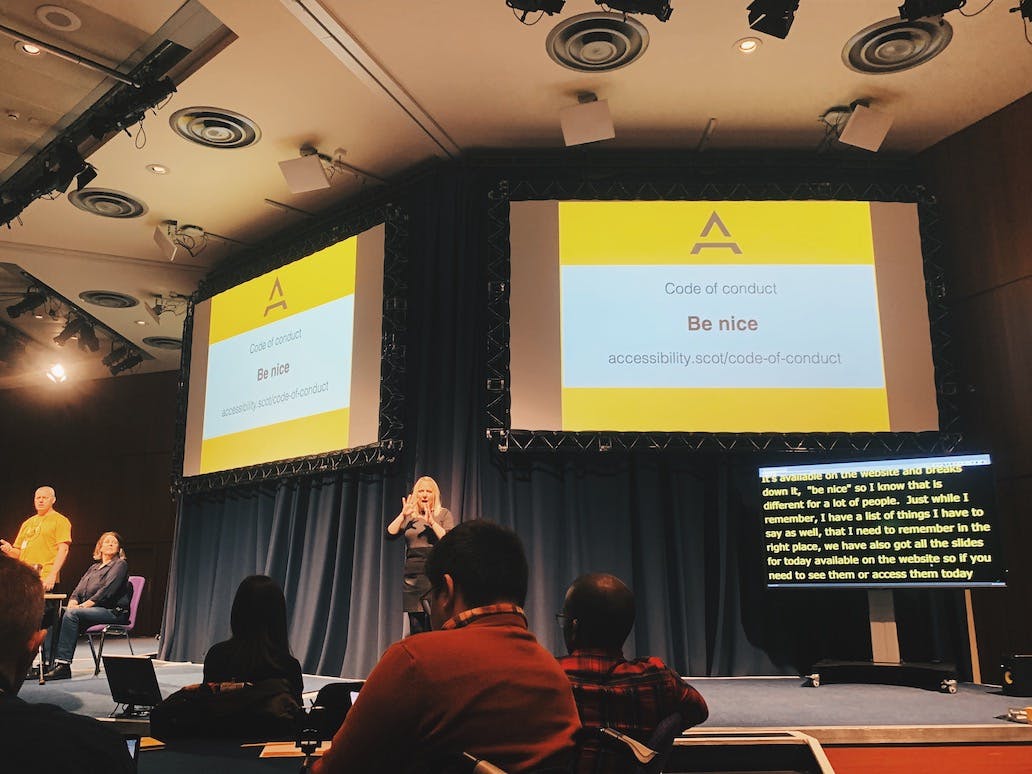 It's a single-track event, so there was also no issue with catching all of the five main talks. These were loosely tied to the day's theme of 'Accessibility and Ethics' but were wide-ranging in terms of subject matter, and all very interesting and thought-provoking.
Below is a short summary of each, plus links to the slides.
1. Accessible public services – Are we there yet?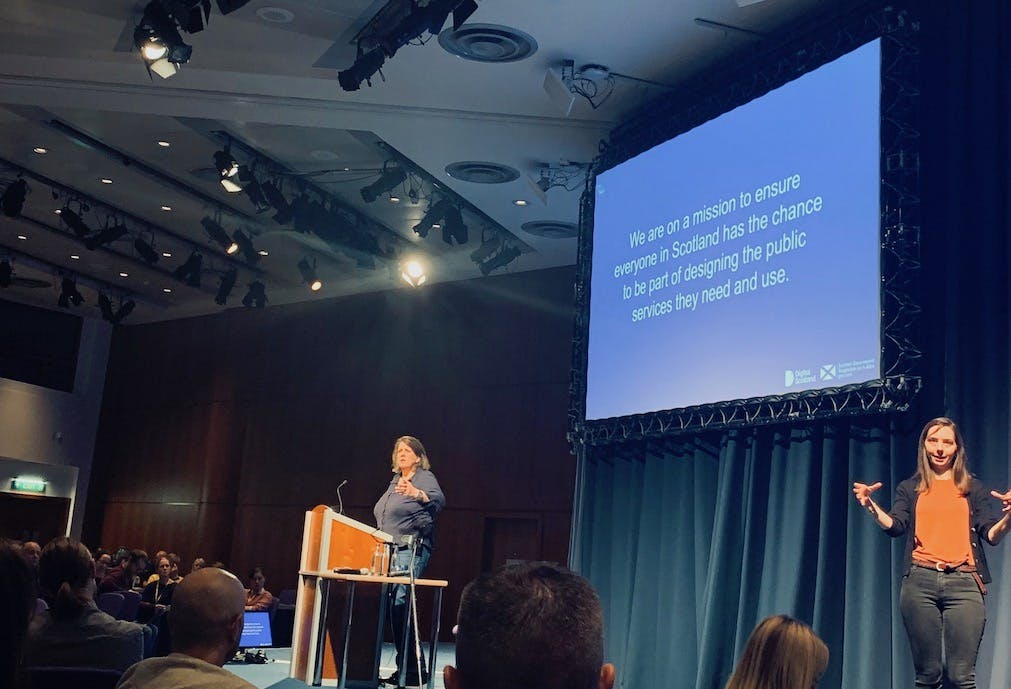 This was a refreshingly honest account of the huge challenges (and opportunities) involved in designing inclusive public services, specifically Scotland's newly devolved Social Security agency.
Cat told us that she has multiple sclerosis, so is well aware of how difficult applying for benefits can be. "Applying for DLA & PIP is one of the worst experiences I've had in my life and I spent most of my 20s working in a war zone."
She admitted that "we're still pretty rubbish at designing public services and don't get it right often enough", in part because the public sector has traditionally tended to design services based on the internal structure of the organisation, which results in fragmented experiences for end users.
However, her team's high level mission is to "ensure everyone in Scotland has the chance to be part of designing the public services they need and use." 
The new agency gave them the opportunity to put this into practice when designing a completely new end-to-end service (of which digital is only one aspect) from scratch. It also helped that 'treating people with dignity and respect' was part of the ministerial remit for the service. As a result,a large scale user experience panel has been at the heart of the process, made up of "thousands of people with lived experience of applying for benefits". 
Cat also shared the Scottish Approach to Service Design Principles which sets out a framework to ensure users are included in public service design now and in the future. And she also said she has been impressed by the levels of genuine engagement with accessibility in the public service design community (many of whom were in the room).
This is just a snapshot of Cat's talk, which was full of loads of fascinating insights about public service design. 
2. I, Human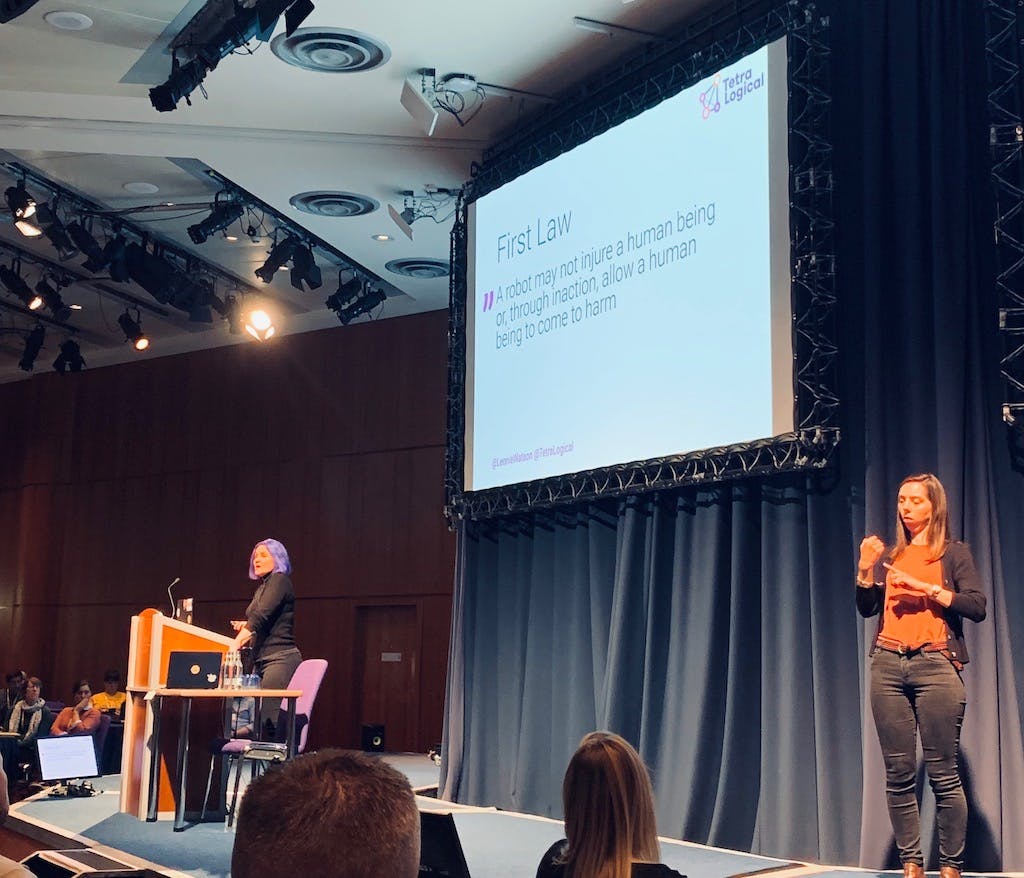 In the second session, Léonie Watson (founder of TetraLogical, W3C Web Platform WG co-chair and Inclusive Design Principles co-author, amongst many other things) took us on an entertaining whirlwind tour of the evolution of Artificial Intelligence. 
Using Isaac Asimov's famous 'Three Laws of Robotics' as a framework, she highlighted how hard it is for machines to replicate the complex sensory intelligence of humans. 
Despite this, there have been some very impressive advancements since 1950 (when the work of Alan Turing got people seriously thinking about A.I.). This has led to innovative accessible technologies such as 'text to speech' and image, text and facial recognition.
As a screen reader user herself, Leonie gave a first-hand account of the benefits of using such tools, for example, Alexa can be invaluable for blind and visually impaired people as they can use it to set timers and do other simple tasks.
It was also moving to see the positive impact of Microsoft's 'Seeing AI', which turns the visual world into an audio experience in a way that seems almost magical.
It was particularly fascinating to see how the emphasis and intonation of synthetic speech can be tailored using Speech Synthesis Markup Language (SSML). Léonie played audio examples of how Stephen King's IT, Winnie the Pooh and The Princess Bride might sound with a bit of clever tweaking.
Léonie also highlighted the importance of addressing the limitations of these tools, including ethical issues such as privacy and gender bias. The 'intelligence' of A.I. is still very much restrained by the parameters provided the people who created them, so it's another case of 'with great power comes great responsibility'.
3. Design to build bridges: when to use disability simulation
Ashley Peacock, Passio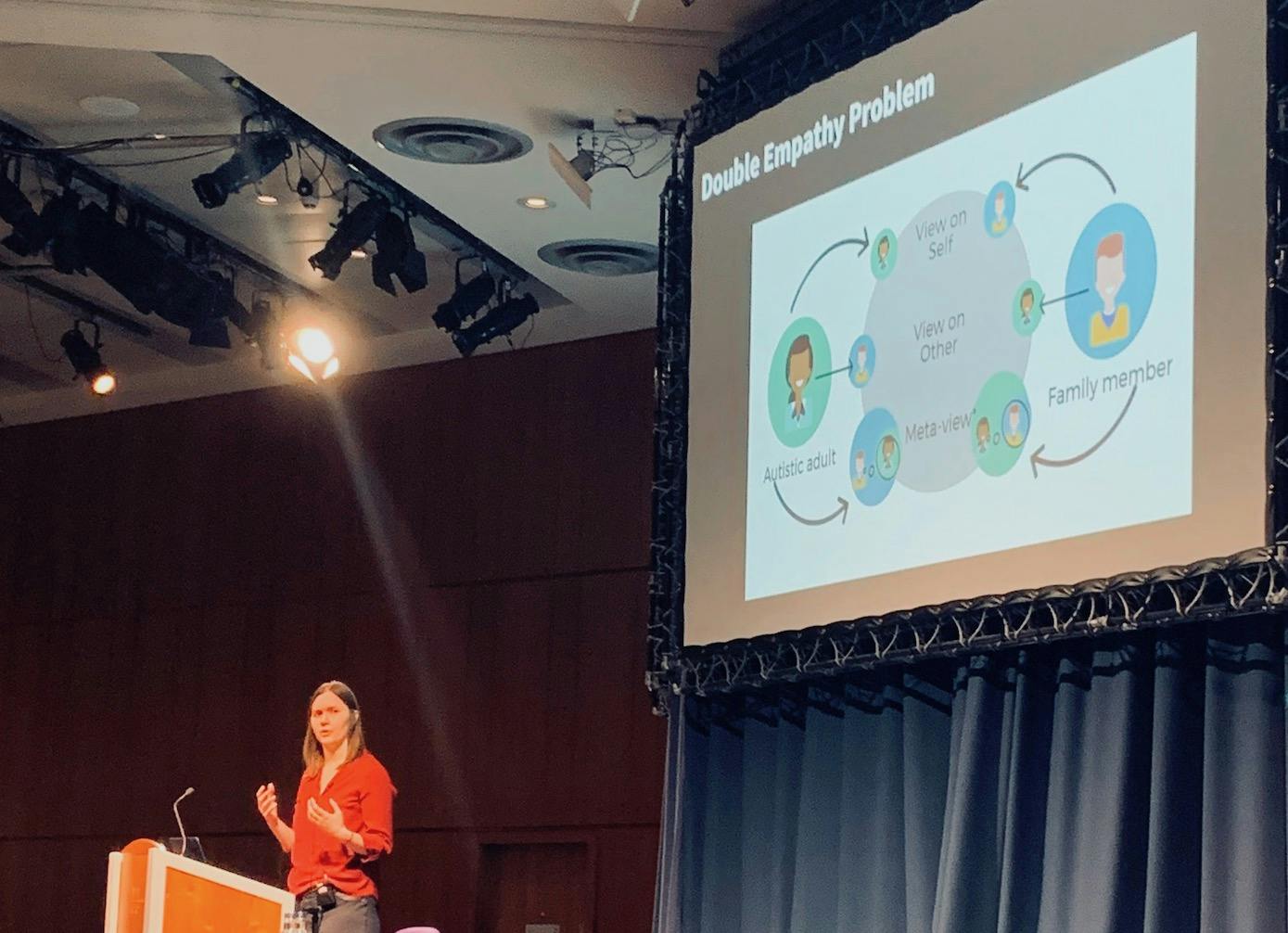 Next up was Ashley Peacock, founder of Edinburgh-based inclusive design agency Passio. She talked us through three examples of technology solutions that they've created for people who are neurodiverse or who have accessibility needs - or as she put it, "see and experience the world differently from the norm".
In each case Ashley made sure these were co-designed with users, which meant taking three very different approaches to fit the purpose of each tool and the specific circumstances and needs of the users.
For example, she co-designed an Autism Simulation Game with the aim of giving teachers, mental health professionals, public sector workers and carers a better understanding of what it's like to have autism.
When interviewing autistic people, she found that discussion prompts worked better than questions, and that an even better solution was to have autistic people write the questions themselves.
She also found that because everyone's experience of autism is different, it was important to let autistic users change the settings to personalise the simulation. They could then share it with the people close to them to give them a better idea of how they personally experience life.
The below video shows the simulation game being played by a person with autism.
The other examples Ashley showed were a Public Transport Assistant for people with a wide range of disabilities and a reading tool to help people with Posterior Cortical Atrophy access a wider variety of sources. In both cases, she shared details of how she adjusted her approach so as to ensure the users needs were met.
4. Designing without empathy
Matt May, Director of Inclusive Design, Adobe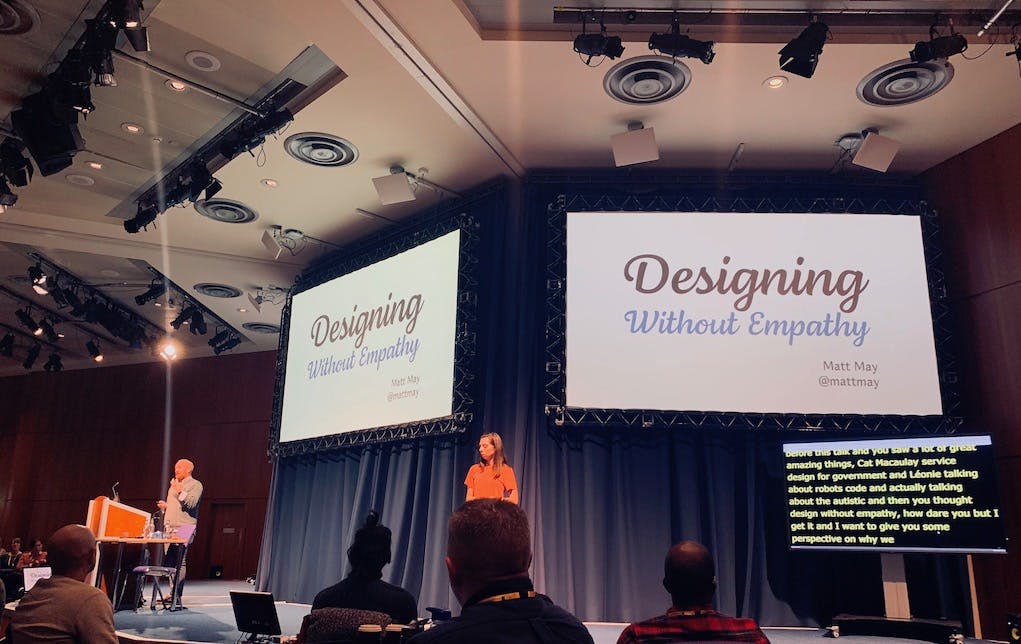 When the title of the fourth session appeared on the screen, we were steeling ourselves for a controversial diatribe. But we needn't have worried, as Matt's talk was a real treat.
He presented a very convincing arguments that empathy is a loaded, overused word - for example this year's SXSW had 70 sessions with the word empathy in the title.
He almost managed to convince us that Adam Smith, who championed the concept of 'mutual sympathy' during the Scottish Enlightenment, appeared to have a pet Dalek - if Smith's statue on Edinburgh's Royal Mile (pictured below) is anything to go by. 
Photo: Matt May
Matt suggested that empathy is usually led by emotion, often materialises as pity (further cementing existing power imbalances) and can create a feeling of aversion and resistance to taking action. 
He also revealed that he himself is an ordained Buddhist minister, which added extra weight to his suggestion that compassion may be a more effective route to helping others as it involves less emotional investment.
He also suggested a number of other ways to reach people that unlike empathy, don't result in exhaustion and feelings of self-superiority - including professionalism, equity and authority (ensuring that there are appropriate policies in place).
5. Accessible unethical technology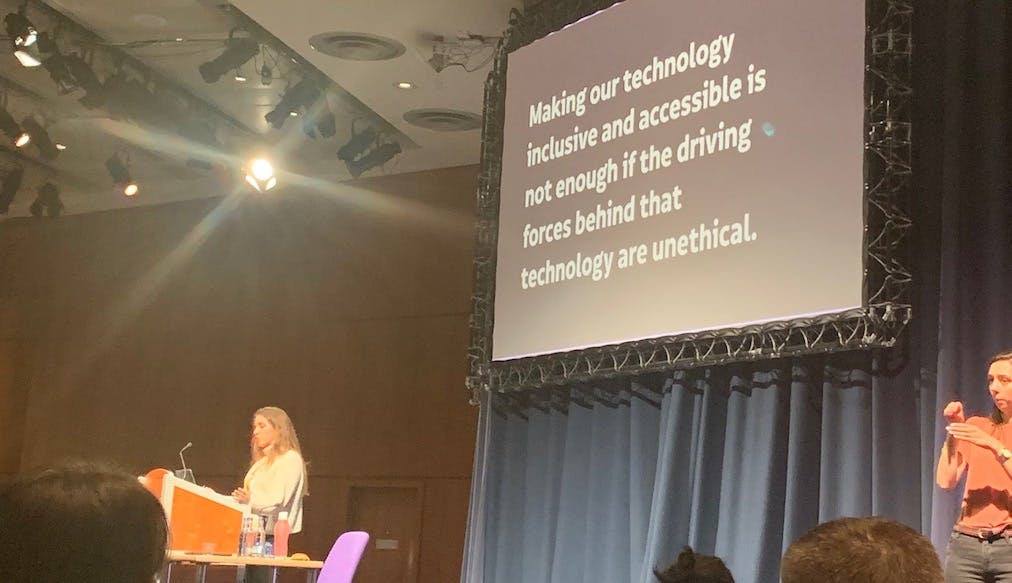 Laura Kalbag is co-founder of the Small Technology Foundation, and author of Accessibility For Everyone, published by A Book Apart. She rounded off the day with a very powerful and densely packed session (consisting of almost 230 slides!) that directly addressed the ethical theme of this year's event.
"Not everything should be accessible - some things shouldn't exist at all."
The above quote from Heydon Pickering set the scene for the rest of her talk, which raised ethical issues with our current online world, including:
Lack of accountability and responsibility
Misinformation
Profiling and other invasions of privacy
Automated decision-making
Targeting
Insufficient security
Whilst these issues affect us all, she pointed out that "when tech is a lifeline (as it is for people with disabilities), you are affected more by the unethical elements."
This is just the tip of the iceberg of what Laura shared - she also gave advice on how we can avoid using, or put protections in place against the unethical platforms that currently dominate online culture. Thankfully, she's made all of her slides and a bunch of other handy resources available online here.
See you next year?
Hopefully this brief round-up gives you an idea of how inspiring, informative and entertaining the day was. And we haven't even covered the Lightning Talks hosted by Girl Geek Scotland during lunch. You can also check out excellent write-up from volunteer and Lightning Talk participant Stephanie Krus and front-end developer Claire Brotherton, both of which go into even more detail on each of the talks.
If you're interested in attending next year's event or finding out when the videos of this year's talks are live, head over to the Accessibility Scotland website or follow them on Twitter.
All slides: https://accessibility.scot/slides/