A recent ruling against Domino's Pizza in the US means that brands may face legal action if they do not make their websites and apps accessible.
Why should UK brands care?
This decision may not currently have the same legal ramifications for UK brands, however the guidelines are being enforced more strictly here too. New regulations for public sector bodies came into force on 23rd September 2018. This introduced stricter rules for councils, charities and schools. 
And while commercial brands in the UK may not face the same legal/regulatory pressure as public bodies yet, it is possibly only a matter of time.
The Purple Pound: accessibility = profitability
 There is also the matter of lost profits for brands who don't cater for all their potential customers. According to the UK Government, "at least 1 in 5 people in the UK have a long-term illness, impairment or disability." So not meeting the guidelines could be having a significant financial impact for your company right now. 
Accessible websites open your business to new demographics with massive buying power. In the UK, it is thought that some seven million people of working age have a disability. This spending worth is known as the 'Purple Pound' and is estimated to be worth £249 billion per year to UK businesses.
What brands need to know (and do)
It's important to be familiar with both accessibility regulations and guidelines for best practice. Our downloadable accessibility checklist (pictured below) covers both US and UK best practice, and we've also gone into more detail about the different considerations for brands in the sections that follow (please note however that the information provided is not legal advice).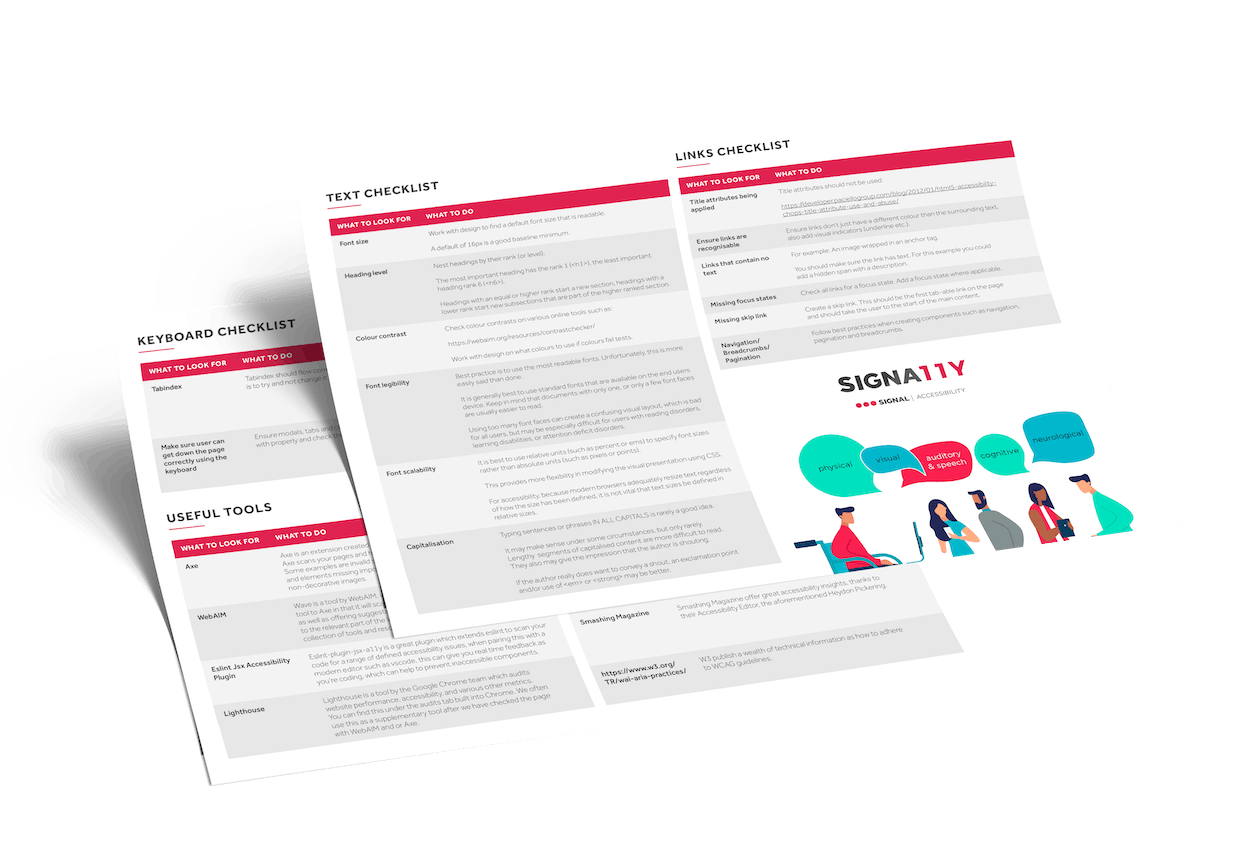 Download checklist for accessible websites (PDF)
Requirements for commercial brands operating in the US
The Americans with Disabilities Act (ADA) was passed in 1990, so why are we only hearing so much about it now?
The digital world has moved on tremendously since 1990, with the world of online shopping and booking websites. Yet the ADA legislation has not. As a result, it has left many American businesses struggling to understand their legal web accessibility obligations.
Understanding ADA
 For websites to be considered ADA-compliant, they must be accessible to users with a range of disabilities. In today's digital world, many social activities now take place online. Legally, all physical stores must have a disabled access in the form of wheelchair-accessible ramps, accessible water fountains, raised and Braille characters on signage, and more.
We cater to these things in a physical world, however, with commercial websites now being considered 'places of public accommodation' under the ADA, it's important to do so in a digital world too.
Legal action is increasing
In 2018 there was a 200% increase in lawsuits targeting websites and mobile apps for their alleged non-compliance with the ADA. This can easily be avoided by designing and implementing a website that's fully accessible to everyone.
The ADA has a strict liability law, which means that there are no excuses for violations. Saying that the web developer is working on it isn't a valid defence - it's time to act now.
 You need to do something, but what does that even mean? As a start, it's important to work through an accessibility checklist, which reduces all the jargon on lengthy legal documents, and helps you focus on core accessible requirements. 
Requirements for public sector bodies in the UK
People using a public sector service website or app in the UK may not have another choice, so it's important they work for everyone. The people who need them the most are often those who find it hardest to use.
We've found that most public sector websites and apps do not currently meet accessibility requirements. Common problems include websites that cannot be navigated using a keyboard alone, inaccessible PDF forms, and poor colour contrast making text difficult to read.
New regulations are already in force
The new regulations which came into force for public sector bodies (including councils, charities and schools) on 23rd September 2018, state that your website must be "perceivable, operable, understandable and robust".
Under the Equality Act 2010 (or the Disability Discrimination Act 1995 in Northern Ireland), all service providers must consider 'reasonable adjustments' for disabled people. For example, providing information in an alternative, accessible format, such as large print or an audio recording.
 Most existing websites that were published before 23rd September 2018 need to comply with the 2018 regulations by 23rd September 2020. For information on exemptions, refer to the Government article on accessibility guidance.
A new public sector website created after 23rd September 2018 must meet accessibility standards, as well as publishing an accessibility statement, which will need to be reviewed and updated regularly.
Requirements for UK-only commercial brands
As shown in the below infographic from Purple, with an average combined spending power of £11.75 billion from disabled online shoppers in the UK, businesses lose approximately £2 billion a month by ignoring the needs of disabled people.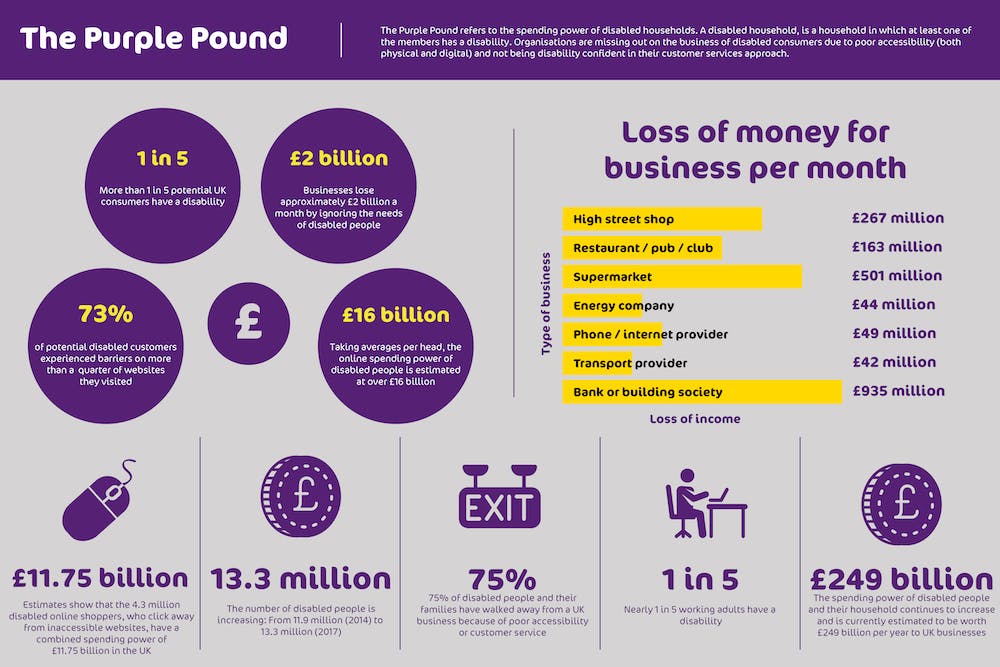 It's unfortunate that 73% of disabled users have experienced barriers on more than a quarter of websites they have visited online. Common barriers include difficulty in buying a product - the core goals of a commercial brand!
Some simple improvements you can make right now
Accessible design considerations often lead to improvements in general customer experience and loyalty:
Visible focus is essential for sighted users who rely on visual cues to navigate with a keyboard. Providing clear and consistent visible focus states allow the user to see their location as they move throughout the site.
For non-sighted users, 'skip to' links provide an easy way to move through the navigation and digest the main content on a page. Alternate text is used by screen readers in place of images, allowing the content and function of these images to be available to those with visual or certain cognitive disabilities.
It's important to provide context around links on a website, for example, ambiguous links such as 'remove' and 'edit' need to have context around what item you may be removing/editing from your order basket, by having the correct descriptive text.
If you're about to upgrade or replace your website, thinking about accessibility upfront saves you time and money in the long run. It's cheaper and quicker than fixing problems once something is built. 
Online retailers should consult with accessibility and UX experts to fully understand the needs of disabled users. Once the identifiable accessibility barriers have been removed, it's advised that disabled users are involved in testing to ensure the site is usable for this audience, as well as compliant to The Web Content Accessibility Guidelines (WCAG) standards at an AA minimum. 
Brands can't afford to ignore accessibility
Not only is offering an accessible website the right thing to do, but from a business perspective, it's both a moral and ethical obligation, as well as legal in some cases. A fully accessible website demonstrates your business is committed to inclusion, whilst also improving your SEO strategy and ranking; it helps search engines crawl your site better, resulting in higher organic search rankings.
And as we've seen, commercial brands who do not prioritise accessibility are potentially losing out on significant profits by failing to cater for one-fifth of all potential consumers. So, the more accessible you are, the bigger the competitive advantage. 
Download our free SIGNA11Y accessibility checklist (PDF) 
Get in touch to find out how Signal can help make your site more accessible.